I've been thinking about what to write for my next post for the past few days and it dawned upon me as I gave my jeans it's 3rd wash in a little over a year, that's right a year. Now many of you might think it's crazy and even disgusting to wash a pair of pants only a couple times a year but for those of you who know about raw (or dry) selvedge denim, you'd probably give me a pat on the back for sticking it out for so long. For this post, I'm going to give some background info on what raw denim is, how to care for them, and my experiences with my favorite article of clothing: blue jeans.
What is Raw Selvedge Denim?
"Raw" or "Dry" refers to denim fabrics that have not been washed at all after being dyed in production, it is in its "raw" state. The "selvedge" part refers to denim that was made on old style shuttle looms. Selvedge denim is desirable because the edge can't fray like lower grade jeans that have seperate wefts. Shuttle looming is a more time consuming process that produces denim of with a tighter weave, resulting in heavier weight fabric that is built to last.
Example of selvedge stitching
Most people buy jeans that have been washed many times to already have a worn in and faded looking pair to wear. However there has been a tremendous growth in raw denim wearers in the past several years and its slowly emerging into mainstream fashion. As opposed to the washed pairs of jeans you see most people wearing, raw denim will fade according to what the owner does in them on a day to day basis. These jeans come stiff as cardboard, are very hard to move in at first, and the indigo will also bleed onto any shoes you wear. So why wear anything that seems so uncomfortable you may ask? To own a one of a kind pair of jeans, that will fade according to what you do in your everyday life.
Washing Your Raws
When I tell people that my pair of jeans hasn't touched water in over a year they think it's absurd. The reason for this is because with every wash or soak you give your jeans, indigo will be lost and your jeans will become lighter and lighter. Without any heavy wear on them, washing them "prematurely" will just make them soft and eventually make them seem like any other pair of jeans you could buy at the mall. After a few months of wear, you'll start noticing creases all over which will stand out even more after a wash. So hold out as long as you can!
Personal Experiences with Raw Denim
My first experience with raw denim was almost 5 years ago. I had spent a little over $120 on a pair of Nudie Slim Jims that I bought online and wore them everyday for about 6 months. They faded pretty quickly but I didn't like how they were more boot cut towards the leg opening and sold them right after. For the next 2 years I rotated brands from Samurai, to A.P.C., to Flathead, to Dior and more and before I knew it I had around 6 pairs of raws in my rotation! After realizing how stupid this was (I'd never get enough wear in any of these to start noticing any fading) I sold them all and stuck with 2 pairs. My A.P.C. New Standards(Current pair) and my SExI04's(next project).
A.P.C New Standards - Retail: $155 + tax
True Waist Size: 32
Bought a size 29 (APC denim is known to stretch heavily).
Day 1 Very Stiff and Very Dark
6 Months In - Lots of creases, some indigo loss
First wash at 12 months. And I've been washing them now every few weeks. I love how they turned out.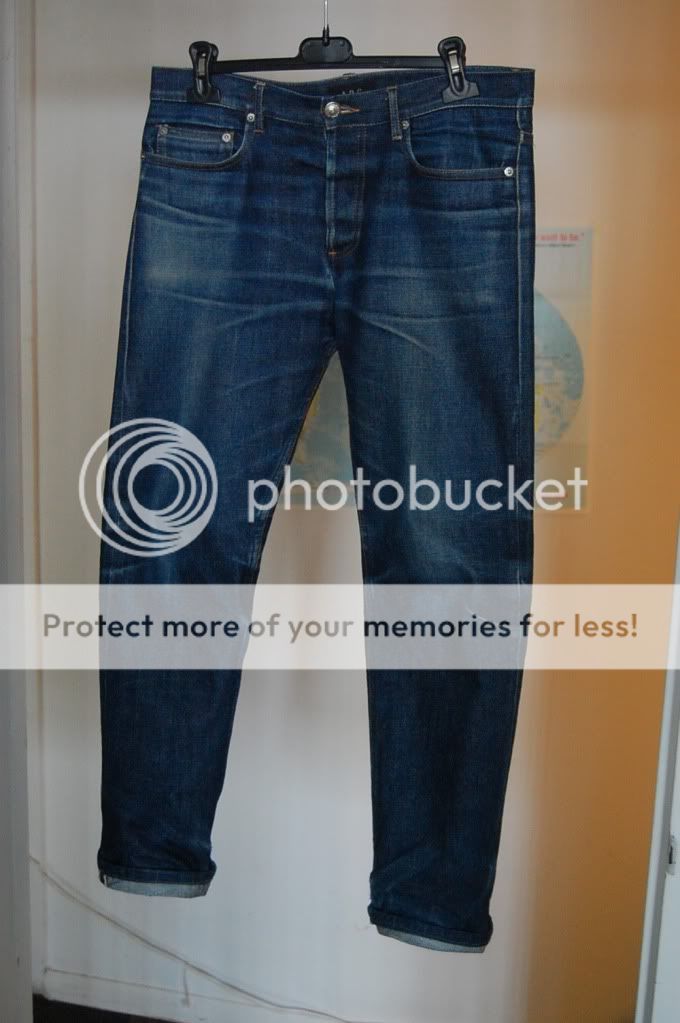 Some repairs on the inside leg:
I'm not going to wear these everyday anymore since I'm pretty happy at how they look at the moment. They'll see wear here and there but for now I'm going to start working on my next pair of raws.
Self Edge x Imperial 04's Retail: $310
True Waist: 32
Tagged size: 30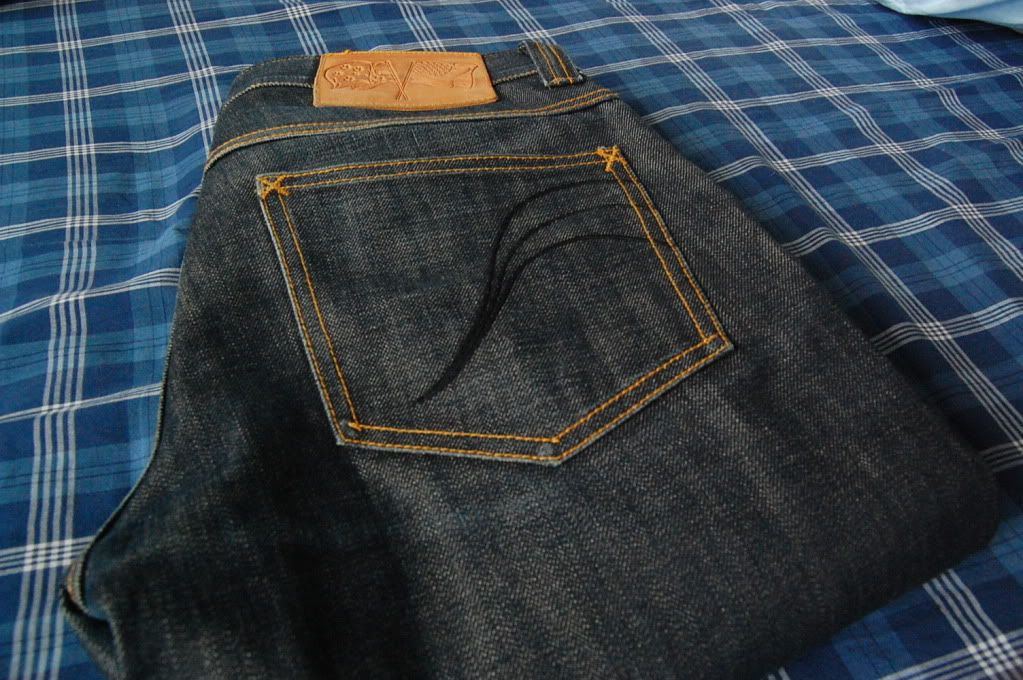 Closing Words: Raw denim isn't for everyone but if you're looking to create a unique pair of faded jeans in your own way I would def. suggest buying a pair. The dark denim color they first possess is also a great look on its own but once they start fading you'll want to wear them more and more. It's pretty interesting to see how they evolve over time. My A.P.C's have gone all over New York City and New Jersey, have been beat up in clubs, bars, college house parties, and also through hiking trails, camping trips, and boat cruises around the Hudson. $155 is not by any means a cheap pair of jeans but when you are wearing them 5 days a week+ for a couple of years, it's a great investment. Raw Selvedge denim has become more mainstream these days and you can find a cheap starter pair at Gap, Uniqlo, and a bunch of other stores for under $100. I recommend investing at least a bill on your first pair. When it comes to raw denim, you really get what you pay for. If you have any questions of raw denim brands, fits, or sizing info just leave a comment or shoot me an email. Thanks for reading and thanks again for the support.